How To Get Rid of Everyone's Least Favorite F Word
We, of course, know what your MOST FAVORITE F-word is, but we're talking about FRIZZ. Can you believe that it's actually starting to be in style to have frizzy hair? You read that right, people are MAKING THEIR HAIR FRIZZY ON PURPOSE. As people who love sleek, soft, manageable hair we don't understand this, but to each their own. 
So first, lets take a look at what exactly causes frizzy hair. A single strand of hair is a lot more complex than you think. Your hair is made up of tons of tiny cells that must all work together and cooperate in order to give you sleek, smooth hair. The cuticle layer of your hair is similar to roof shingles. In order to have sleek, smooth, frizz-free hair, the "shingles" need to all be laying flat on top of one another. Frizz occurs when that cuticle is raised and the "shingles" are actually sticking straight up instead of laying flat. Let's look at this illustration to see the difference below.
As you can see, if the cuticle is raised, or the "shingles" are sticking up, this allows environmental factors to enter into your hair. By being open, the cuticle allows excess moisture to absorb into your hair and harmful UV rays which can seriously damage your hair. The best way to make sure that your cuticle lays flat and doesn't open up is to make sure that your hair is hydrated. Your hair can become dehydrated in many ways. Some of these include:
You aren't drinking enough water. (To stay properly hydrated you should be drinking half of your weight in water per day)
The oil your scalp naturally produces is not making it down the strands of your hair. (Very common in curly/kinky hair)
You're not deep conditioning your hair enough.
Your hair oils of choice are not oils that easily penetrate into the hair shaft.
So what should you do, you ask? First things first, make sure that you are using styling products that contain silicones, these are very important in order to create a barrier and protect your hair from the excess moisture in the air. Let's take a look at some tips to combat frizzy hair.
1. Use Argan Oil When Styling- You probably have heard by now, that Argan oil is the best oil for your hair because it is easily penetrated into the hair shaft. Argan oil also seals the hair cuticle and protects it against external forces like humidity. We have a whole line of products that contain Argan oil here. By coating your fingers in Argan oil before you style, you are actually protecting your hair from the damage that would be caused by your fingers and the oils/dirt you carry. You are also helping to strengthen your hair using Argan oil.
2. Deep Conditioning- We've said it time and time again, but deep conditioning is really important. By deep conditioning your hair and giving it excess moisture, your styles will actually last much longer. We have a fantastic hair mask for deep conditioning here.
3. Hot Oil Treatments- I know this sounds scary, but it's quite the opposite. They are very simple to do at home and they infuse your hair with the essential oils for moisture and shine. What you do is apply your oil of choice to clean,towel-dried hair. You then cover your hair with a shower cap or plastic wrap and apply heat by sitting in the sun or using a blow dryer. After heating let your hair cool to room temperature and then rinse your hair with cool water to close the cuticle. Using these treatments correctly will help to increase elasticity in your hair as well as give it a nice sheen. 
4. Try a Hair Relaxer- If you don't know by now, we have State-of-the-Art smoothing systems that can relax your hair and rid your life of frizz for up to six months, that's HALF A YEAR. Make sure after getting a treatment that you keep your hair in tip-top shape by using nourishing masks and moisturizing products. Learn about our smoothing systems here.
5. Brush Before Washing- I know this sounds silly, but it is actually extremely important. If you have a boar bristle brush this is what you should use to brush your hair before you shower. The reason why this is so important is that it will make the product distribute in your hair unevenly while you shower. Brushing your hair before you shower also pulls natural oils from your scalp through your hair to hydrate it before the water hits it.
6. Apply Styling Cream To Wet Hair- Right after you shower, apply a styling cream to your hair. This is very important if you have curly or coarse hair. This helps to create a protective layer against frizz. Try our curling balm for frizz free, soft, defined curls here.
7. Try Something New- If you shower in the morning this may not be best for your hair before it will have to deal with external factors all day. If you shower at night it makes it easier for your hair to not have to deal with external factors. After you get out of the shower to try to apply more product to your hair than you usually would, it might actually help. And finally, try wrapping your hair in a t-shirt to sleep in at night, you will be surprised with the results.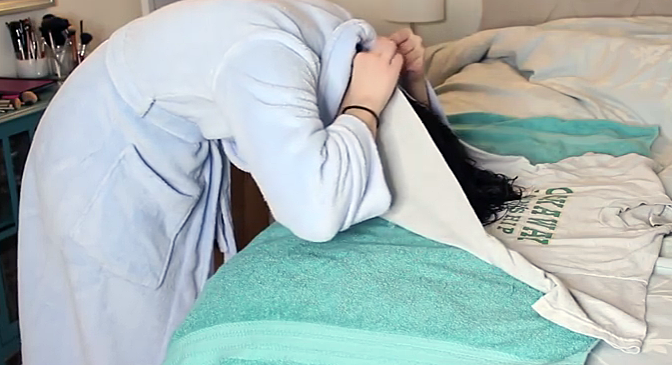 8. Serum!- While your hair is still wet apply a serum to it, especially the ends. This helps to give your hair an extra protective layer, while also moisturizing and giving your hair a nice shine. Our Argania Serum is fantastic, check it out here.
Frizz is not your friend, unless you're one of those people that is actually trying to attain a frizzy look. Don't be afraid to try something new, your hair will thank you. Using the same products and schedule all the time might actually be bad for your hair. So switch it up, follow these tips, and be spontaneous!