With just two drops you will notice the change
Mousturize your hair withe the ARGANIA SERUM ,light formula that eliminates frizz, gives shine and softnes NOW WITH THE 10% OFF
I WANT MY SERUM
HIGHER CONCENTRATION OF ARGAN OIL THAN OTHER PRODUCTS ON THE MARKET WITHOUT LEAVING HAIR GREASY!
PROGRESSIVE RESULTS FROM THE FIRST APPLICATION
WHY DUO IS BETTER?
Use this text to share information about your brand with your customers. Describe a product, share announcements, or welcome customers to your store.
Listen how Argania Serum can change your hair

WHAT DOES ARGAN OIL DO FOR YOUR HAIR?
✔️PROTECTS HAIR FROM EXTERNAL AGGRESSIONS.
✔️INCREASES HYDRATION
✔️PROMOTES A HEALTHY APPEARANCE
✔️BRINGS SHINE AND SOFTNESS TO HAIR
✔️PREVENTS HAIR AGING
✔️MAKES HAIR STYLING EASY WITHOUT OILING IT
✔️REDUCES FRIZZ

BUY YOUR ARGANIA SERUM TOO AND TURN YOUR HAIR INTO WHAT YOU'VE ALWAYS WANTED.
✔️ EASY TO USE
✔️ USE IT ON WET AND DRY HAIR
✔️PROTECTS YOUR HAIR FROM HEAT TOOLS
✔️QUICK ABSORPTION


Argania™ Serum Lite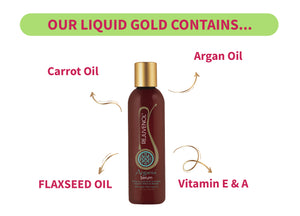 No, the plus of the Argania Serum is that its light formula does NOT make hair greasy.
Put a few drops in the palm of your hand and rub them in, apply the product from the middle to the ends.
Yes! The Argania Serum is designed to be used at any time, either after a shower or to give shine and softness in the day to day.